Tons of Harry Potter party ideas with lots of printables to make it easy to use these ideas yourself.

Harry Potter Party Ideas
Throw an amazing Harry Potter birthday party with all of these Harry Potter party ideas. My friend and I recently threw a Harry Potter themed party for our gourmet dinner club that we take turns hosting. This theme was SO FUN. The hardest part was probably combing through ideas and modifying them to work for us. We've also simplified a lot of the Harry Potter party ideas by adding our own free printables so you don't have to go to all of the work that we did. Have fun!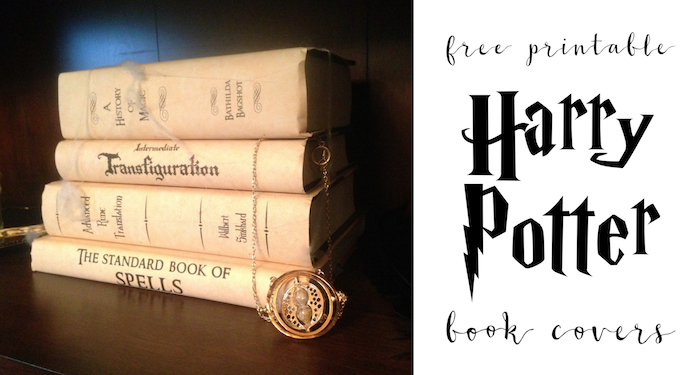 Print these Harry Potter book covers and wrap them around the spine of a book. Done.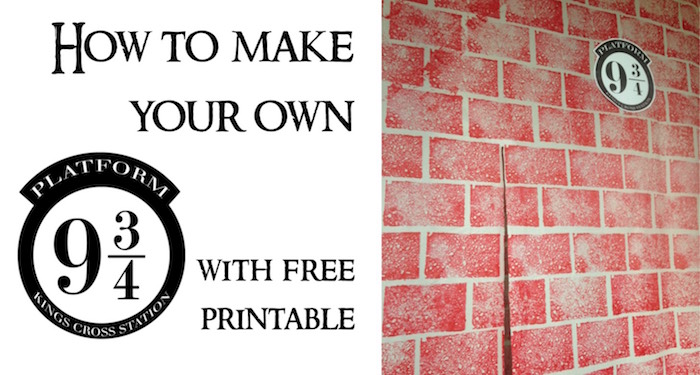 Make this DIY Harry Potter Platform 9 3/4 or purchase the brick fabric. This was probably my favorite decor at our party.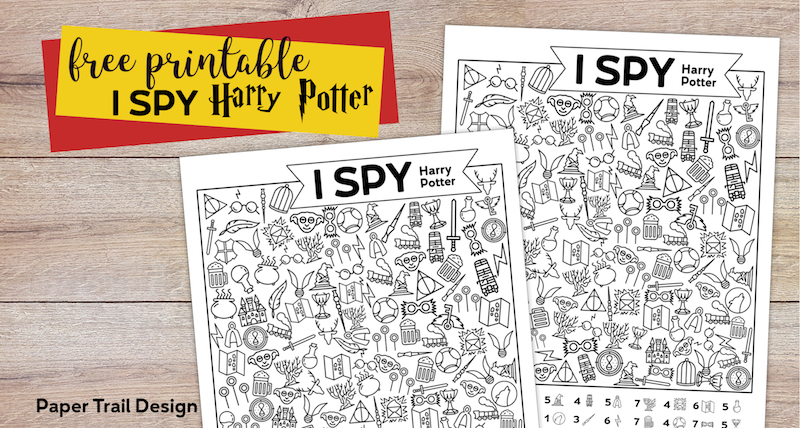 This Harry Potter I Spy game is a great activity to have handy at your party.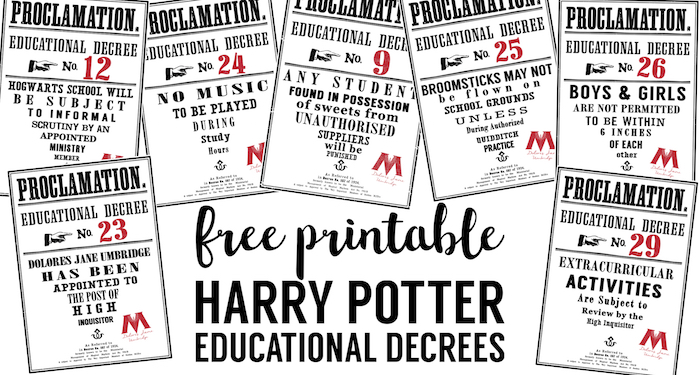 Print and hang these Harry Potter Educational Decrees.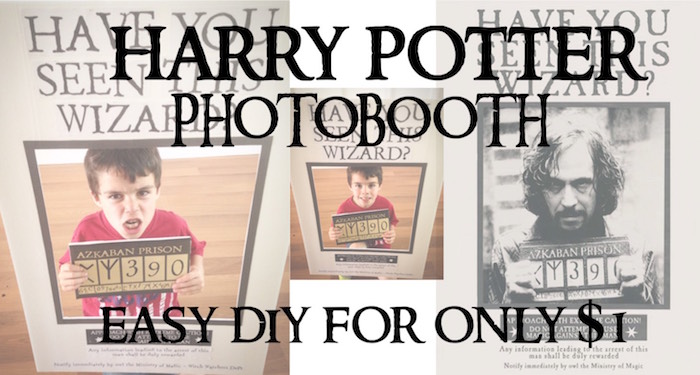 This Harry Potter Photobooth is cheap and easy. You basically just have to print out the images we designed and glue them onto a poster board.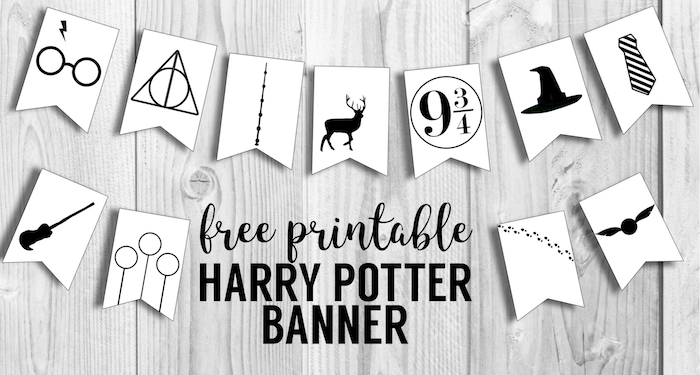 I made This Harry Potter banner after the party but I definitely love it and would have used it.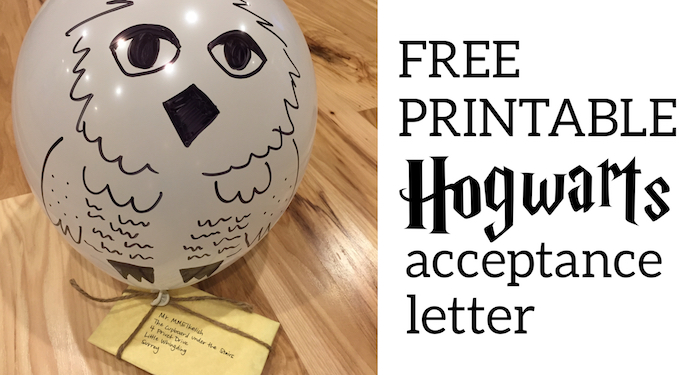 Customize your own Harry Potter acceptance letter. We added the names of our guests to the letter and changed the date to the date of our party. We also added the address under the signature line.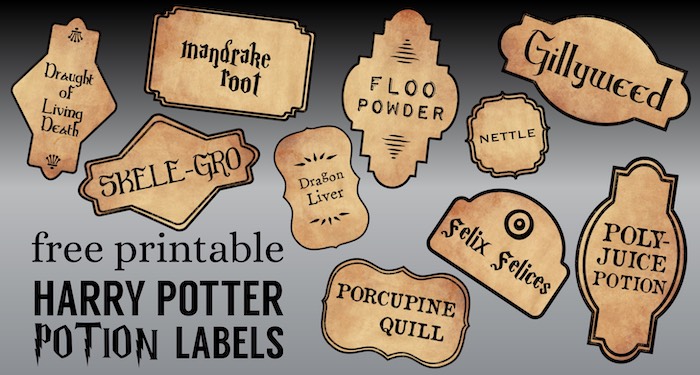 s
Print these Harry Potter potion labels and glue them onto some bottles!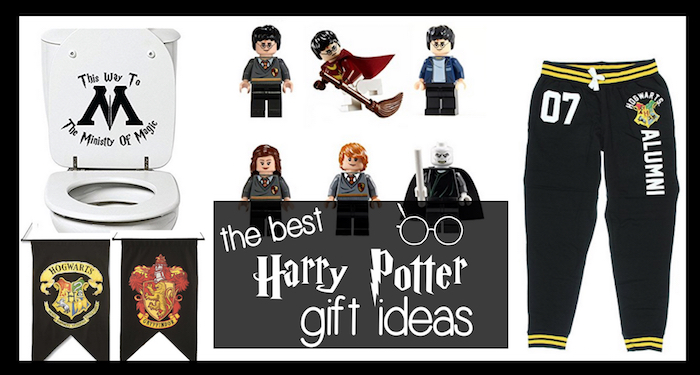 Harry Potter merchandise is so much fun. I spent hours and hours combing amazon for some of The Best Harry Potter Gift Ideas.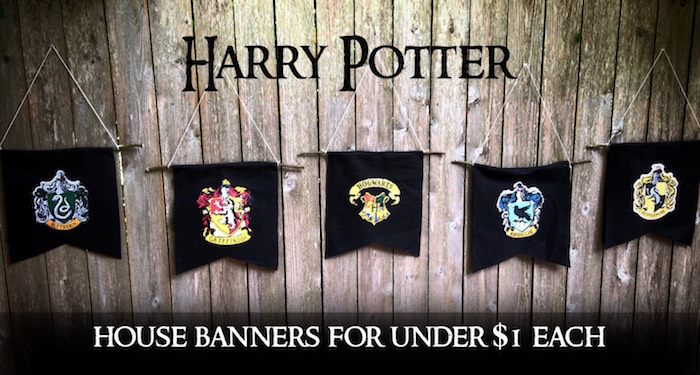 These Hogwarts house banners were simple to make. Just use black felt and cut out the printable pictures to glue onto the felt. Our friends thought we had ordered them online and didn't even notice that they were paper.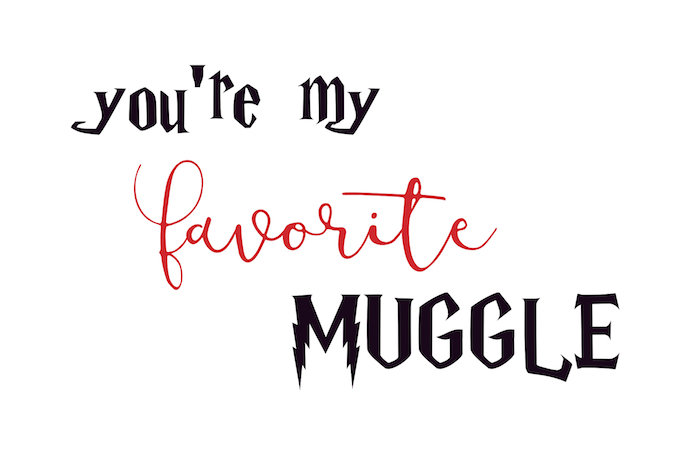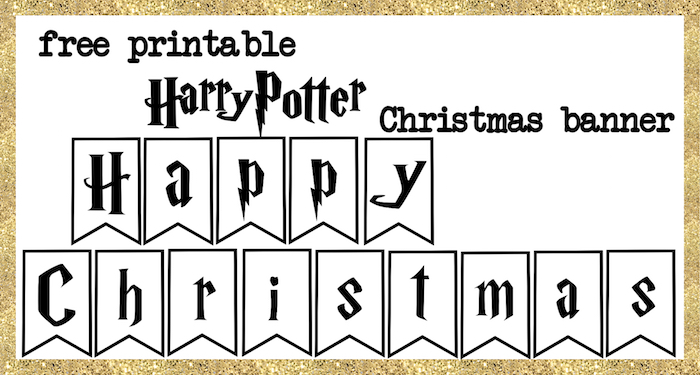 If your Harry Potter party is a Christmas party then this Harry Potter Christmas banner is perfect!

We collected old bottles including Rootbeer bottles, Tabasco, Franks hot sauce, and some from the dollar tree. We printed these free printable labels from Over the Big Moon onto parchment paper.
Visit Brittany @ Paper Trail Design's profile on Pinterest.

To glue the labels onto the bottles I used this elmers spray adhesive. This stuff is THE BEST. One of my kid's teachers once asked me to glue A TON of papers together. It would have taken a couple of hours but instead I threw out drop cloth down and sprayed them all and I was done in 10 minutes. I've considered giving this to my kids' teachers all as gifts because it would same them so much time. It's also great because it adheres better to things like glass.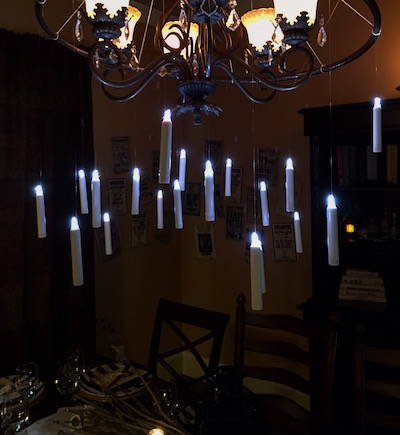 We found two-packs of fake candles and a hula hoop at the dollar store. Then we hung a hula hoop around the chandelier and hung the candles using clear thread like this (you could also use fishing line) to hang the candles from the hula hoop and chandelier to make floating candles above your table!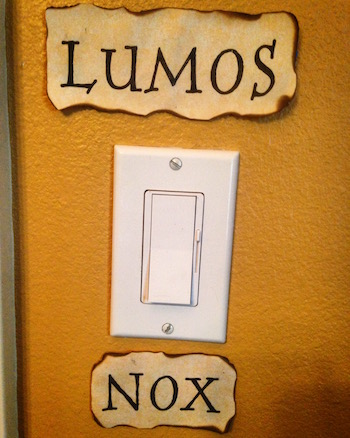 For our Harry Potter party we also thought these Lumos & Nox labels were a fun touch to add to the light switches. We burned the edges of the paper to give it a more magical look.
There are a handful of proclamation educational decrees, wanted posters, daily prophets, and miscelaneous fun signs that we decided to print onto parchment paper and burn the edges before hanging on the wall with painters tape rolled up. Tip: parchment paper is a lot cheaper on amazon here.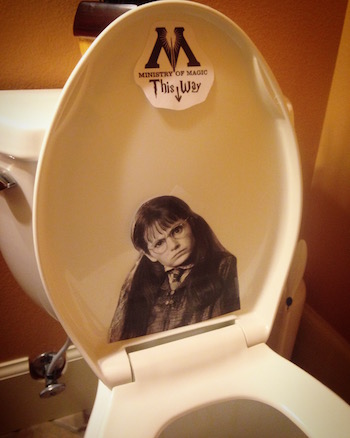 In the bathroom we couldn't decide between Moaning Myrtle or the Ministry of Magic so we just went with both.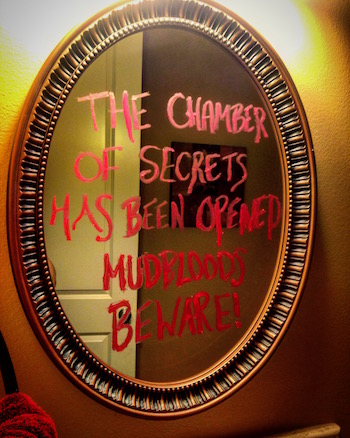 It was also a fun touch to add "The chamber of secrets has been opened. Mudbloods beware!" to the the mirror in the bathroom.
Visit Brittany @ Paper Trail Design's profile on Pinterest.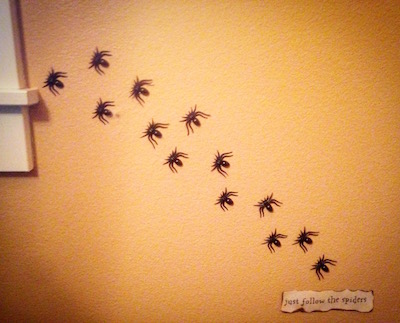 And some leftover spiders from Halloween and a reminder to "just follow the spiders" was fun and made everyone shudder.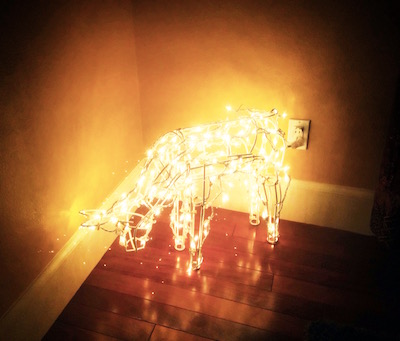 If you have a reindeer for your yard at Christmastime you can turn it into a doe for the occasion. "Always."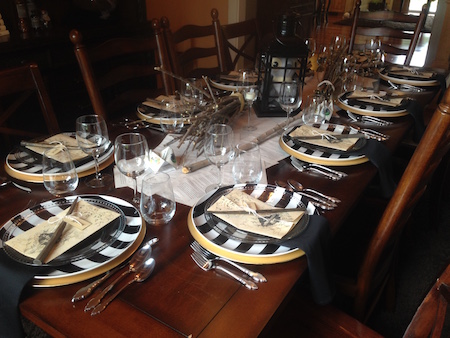 We used book pages from a Harry Potter book we found at Salvation Army to decorate down the table and we set brooms made of twigs on top. In the middle of our table was a lantern made into a cage with a stuffed owl inside.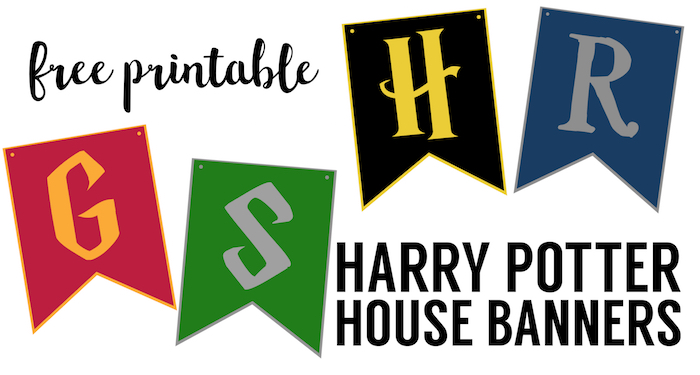 These printable Hogwarts house banners are super easy to make. Just print and cut.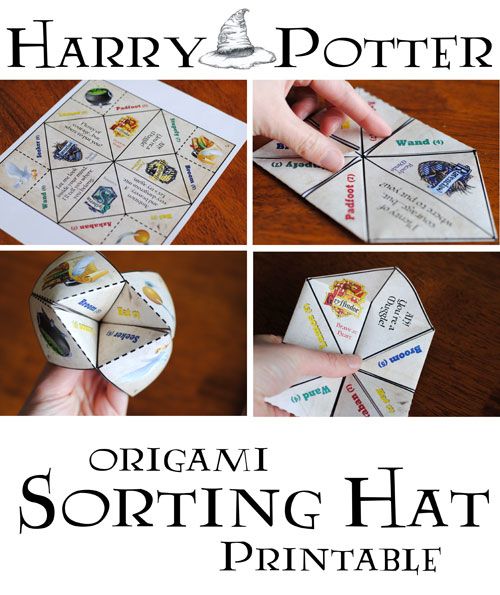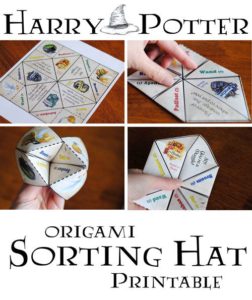 On the table we had a few of these sorting hat cootie catchers for our guests to have some fun with.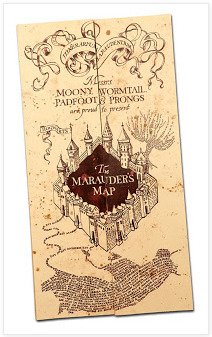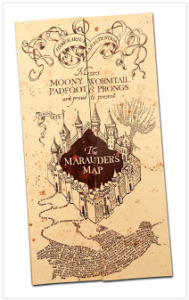 For our menus we used parchment paper  and printed these marauder's maps on the outside and on the inside printed our menu for the evening. Tip: parchment paper is a lot cheaper on amazon here.
We had a great Harry Potter party!
Printables from Paper Trail Design are for personal use only.

This page may contain affiliate links. When you click them you support Paper Trail Design. Thank you!
Pin this Post to Pinterest using the "Pin it" button below!