Use our free printable platform 9 3/4 sign and brick wall for a fun Harry Potter party decoration.

DIY Harry Potter Platform 9 3/4
I recently co-hosted a Harry Potter dinner for the gourmet dinner club I am a part of. We each take turns hosting a fancy dinner for each other with Pinterest worthy decorations, appetizers, desserts, place card holders, invitations, and everything you can dream of. This was my fifth dinner that I hosted and by far the most fun theme. It was also by far the hardest to pull off. You can't just fluff over Harry Potter. If you are going to throw a Harry Potter party you have to do it justice. I think my favorite item of decor was this DIY Harry Potter Platform 9 3/4 that we had hanging on the front door.
Purchase a Brick Backdrop Instead
If I did this over again I would just use this plastic brick patterned backdrop on Amazon.
More Harry Potter Party Ideas
You might also want to check out some of our other Harry Potter tutorials and free printable posts:
Make the Platform 9 3/4 curtain
Before you start I'm going to repeat that since making this, I've learned it is probably cheaper to buy a plastic brick patterned backdrop on Amazon.
We toyed with a few ideas on what to use to paint the DIY Harry Potter Platform 9 3/4 brick wall on. There are a lot of tutorials that say to use a bed sheet but this seemed a little expensive. If we had thought to check amazon I might have just done that though. If you had plans to use this over and over it might be a better option. We bought a shower curtain but then realized that a shower curtain is much shorter than the doorway. We thought about painting cardboard and fixing it to the door almost like a swinging door in a western movie, but then we found a plastic table cloth like this that was about the exact same size as our door. BINGO! If you wanted something more long lasting you could use a cloth table cloth like this one for just a little more money.
Visit Brittany @ Paper Trail Design's profile on Pinterest.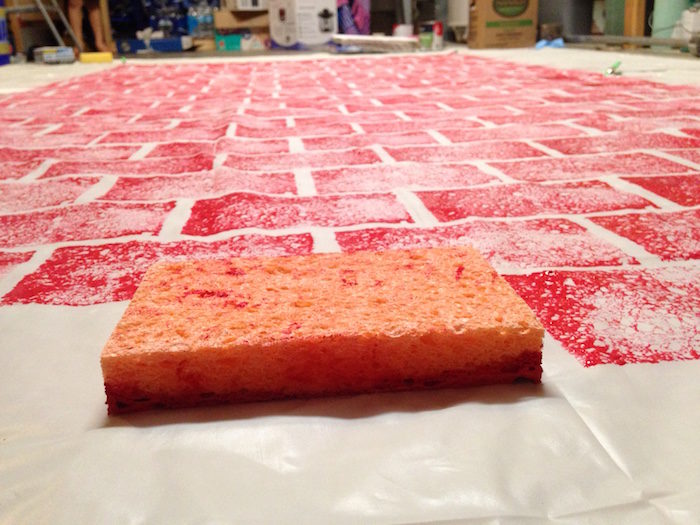 To make the DIY Harry Potter Platform 9 3/4 you will need your table cloth, a large sponge, red paint, and a paint tray. This red paint is inexpensive and comes in the 8oz size that should be more than enough if you are painting on plastic. If painting  onto a sheet or linen table cloth I am going to assume you will need more paint because it will soak up more. Or you can skip this whole process and just buy this plastic brick patterned backdrop.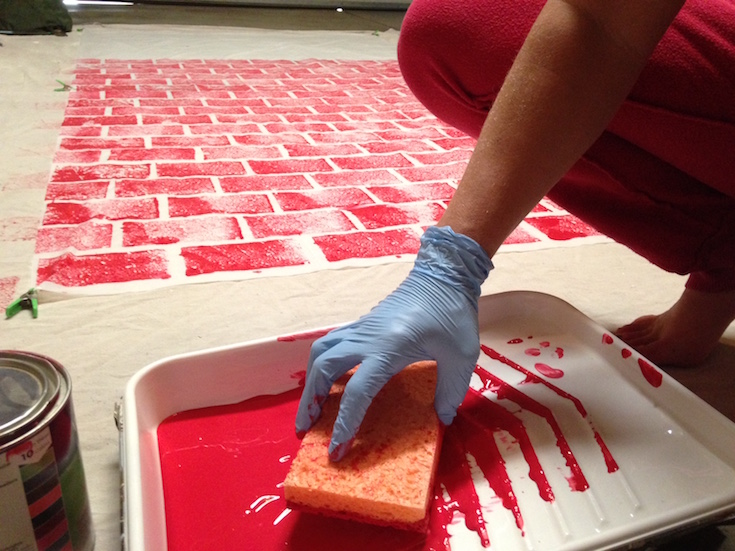 Lay out your table cloth. I put clips on each corner so that I could pull them tight after each row and keep my cloth straigh.  If you don't want paint all over use cardboard, newspapers, a tarp, or a drop cloth underneath to keep paint off your floor. Lightly cover one side of the sponge with paint and scrape off the excess. Don't get too much paint on the sponge or it will bleed out and look more like a blob than a brick. Each time you dip the sponge you should be able to paint about one line of bricks. The first few bricks I would just lay the sponge down and lift it back up, but as I got further down the line I would apply a little more pressure to the sponge. Offset each line of bricks so that they don't all match up evenly. Don't worry about measuring. Just make sure your cloth is laid out straight and you should be able to make fairly straight lines.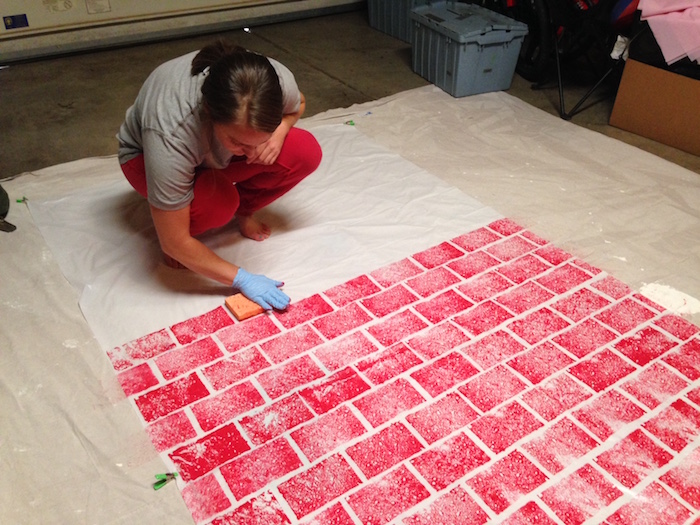 Once the paint is dry cut a slit about 5 1/2- 6 feet up the middle depending on how tall your guests are and attach the Hogwards express Platform 9 3/4 sign. I recommend putting a piece of scotch tape at the top of the slit to keep it from tearing further. There are quite a few of these platform 9 3/4 signs floating around the internet but I decided to make my own so I can share it with you.
Print the Platform 9 3/4 sign below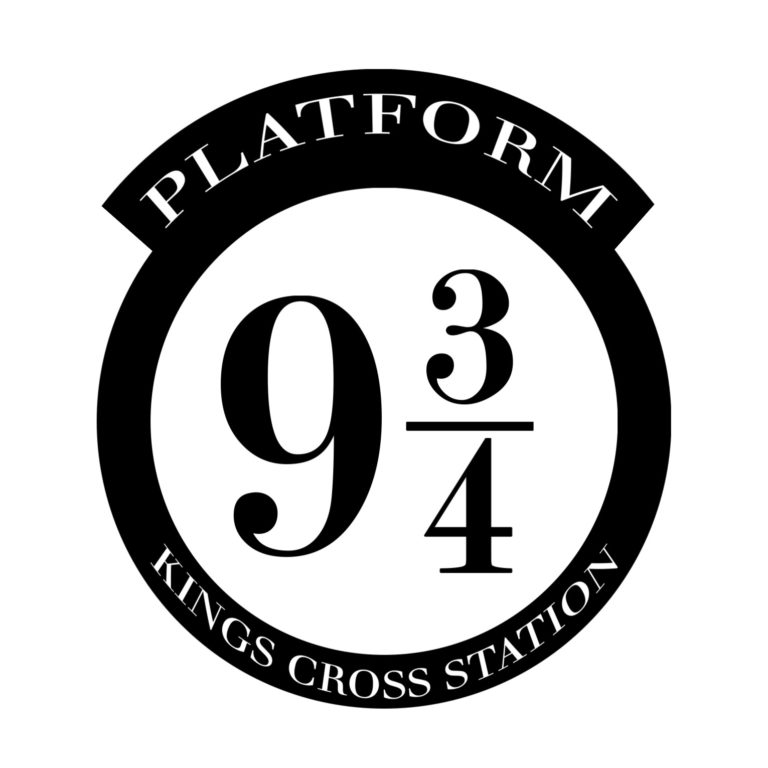 Printables from Paper Trail Design are for personal use only.
Here's our final product of the DIY Harry Potter Platform 9 3/4! We taped some pennies to the bottom to keep it from flying around in the wind too much.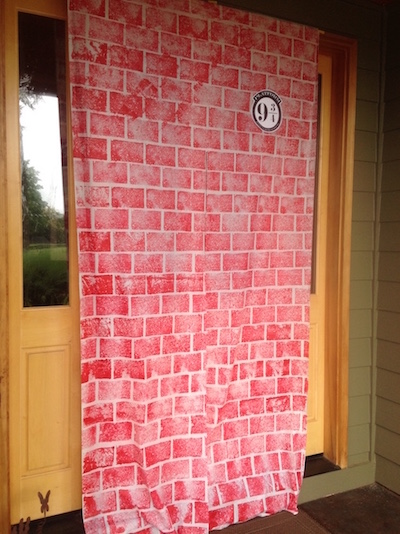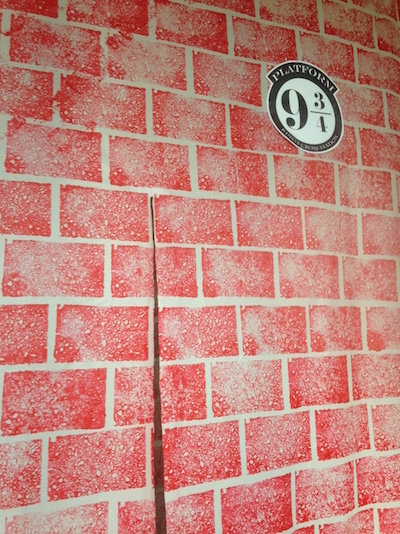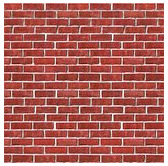 If you don't want to go to all of this effort you can just buy this brick wall back drop on amazon. It is plenty big and much easier.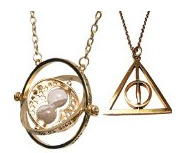 One of my other favorites from this party was shopping around for Harry Potter merchandise. These Hermione time turner and deathly hallows necklaces are so fun!
Other Posts You Might Like: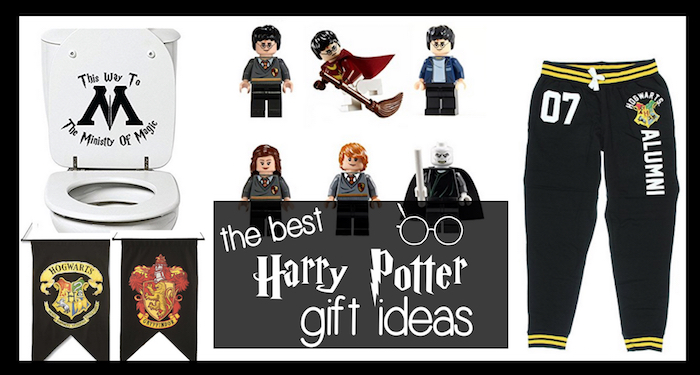 The Best Harry Potter Gift Ideas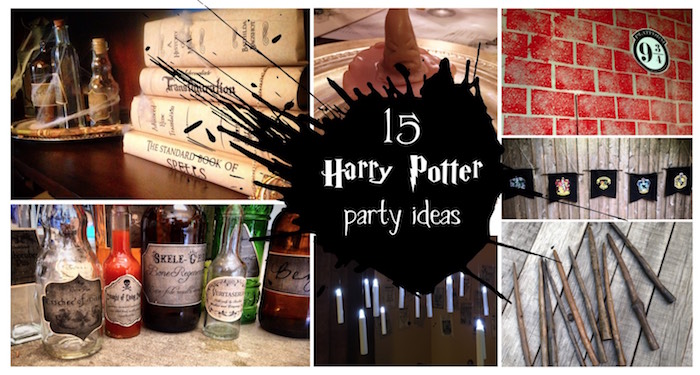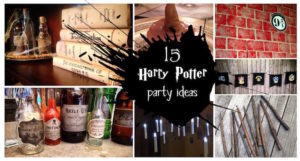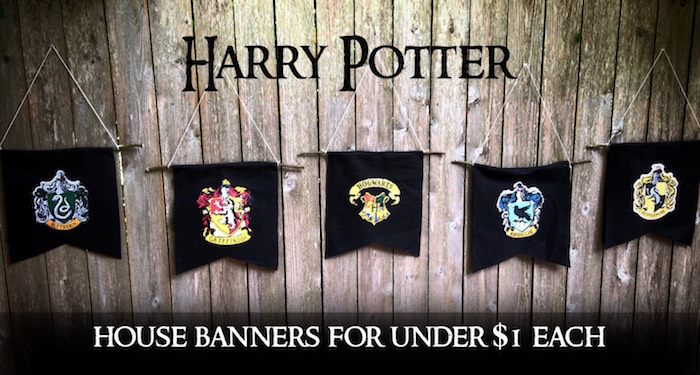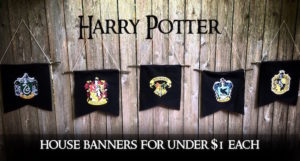 Harry Potter Hogwarts  House Banners DIY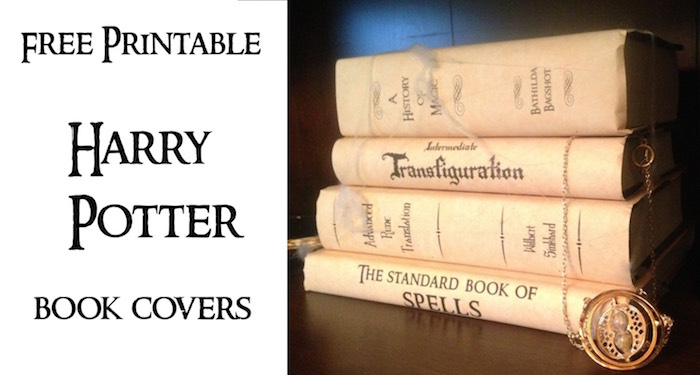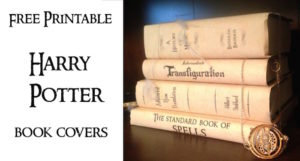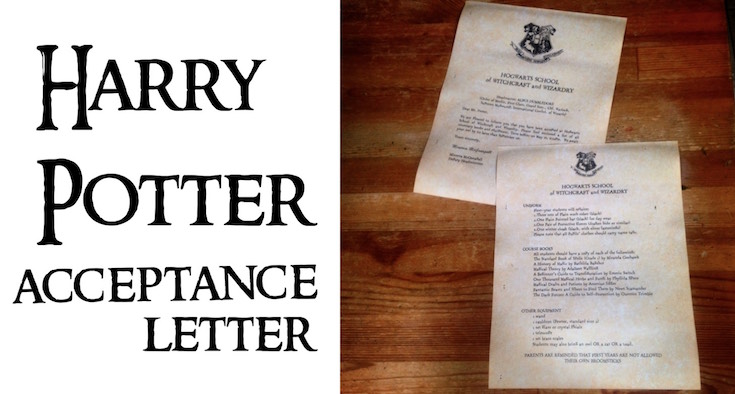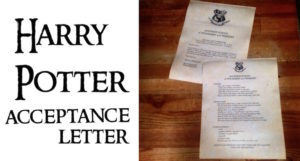 Harry Potter Acceptance Letter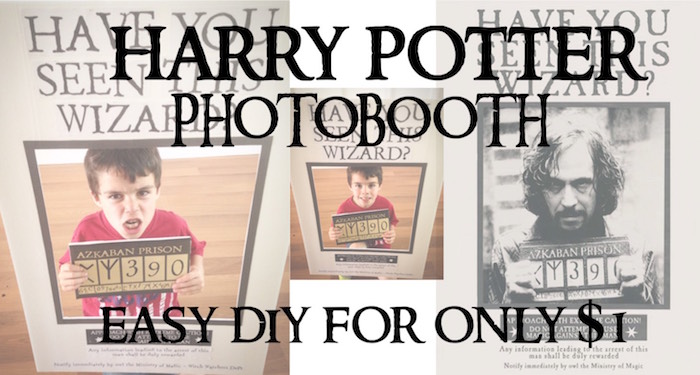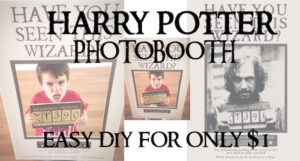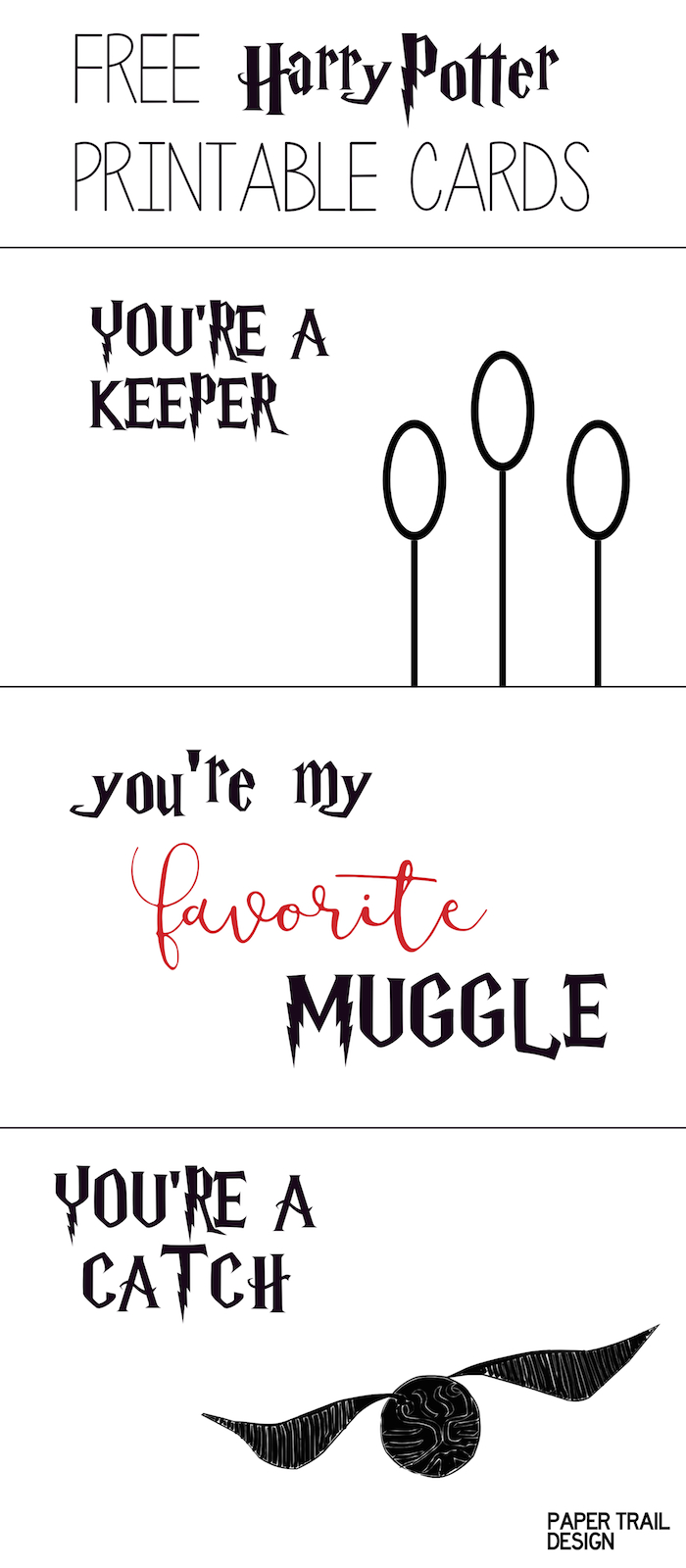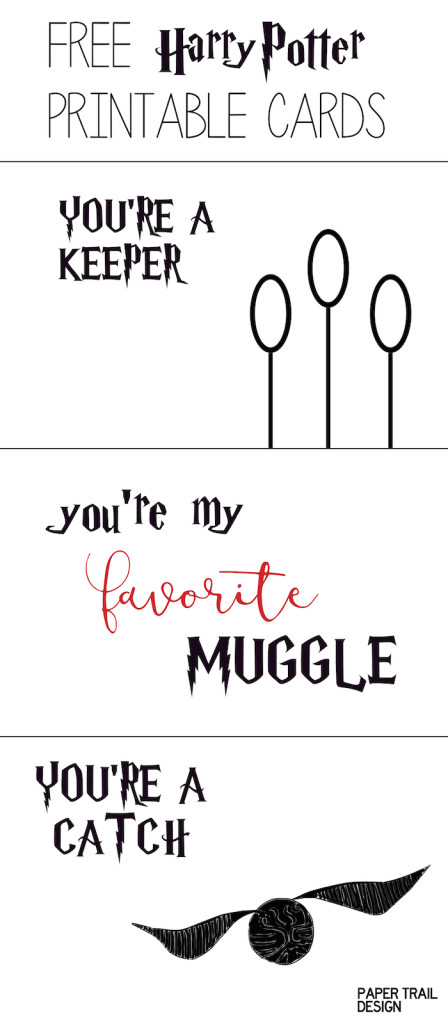 This page may contain affiliate links. When you click them you support Paper Trail Design. Thank you!

Pin this Post to Pinterest using the "Pin it" button below!