Make your own Harry Potter Hogwarts acceptance letter using these shortcuts to make it easy.

Harry Potter Hogwarts Acceptance Letter Template
Throwing a Harry Potter party for some witches and wizards? Have a soon to be 11 year old? Here's how to make your own personalized Harry Potter Hogwarts acceptance letter using our Hogwarts letter template. Here's how I made my letter of acceptance.
Before we dive in I need to add that I have five other fun Harry Potter tutorials and free printables you should check out!
Hogwarts Letter Template

I constructed my own Hogwarts acceptance letter in google docs. Start by adding the Hogwarts crest to the to of the Hogwarts letter. I added this to the top of the school supply list as well but you could skip the school supply list if you don't care.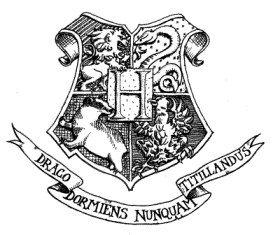 Next copy and paste the text for the letter into your document:
HOGWARTS SCHOOL of WITCHCRAFT and WIZARDRY
Headmaster: ALBUS DUMBLEDORE
(Order of Merlin, First Class, Grand Sorc., Chf. Warlock, Supreme Mugwump, International Confed. of Wizards)
Dear Mr. Potter,
We are pleased to inform you that you have been accepted at Hogwarts School of Witchcraft and Wizardry. Please find enclosed a list of all necessary books and equipment. Term begins 1 September. We await your owl by no later than 31 July.
Yours sincerely,
Minerva McGonagall
Minerva McGonagall
Deputy Headmistress
Hogwarts Textbooks and School Supply Template
HOGWARTS SCHOOL of WITCHCRAFT and WIZARDRY
UNIFORM
First-year students will require:
1.Three sets of plain work robes (black)
2.One plain pointed hat (black) for day wear
3.One pair of protective gloves (dragon hide or similar)
4.One winter cloak (black, with silver fastenings)
Please note that all pupils' clothes should carry name tags.
COURSE BOOKS
All students should have a copy of each of the following:
The Standard Book of Spells (Grade 1) by Miranda Goshawk
A History of Magic by Bathilda Bagshot
Magical Theory by Adalbert Waffling
A Beginner's Guide to Transfiguration by Emeric Switch
One Thousand Magical Herbs and Fungi by Phyllida Spore
Magical Drafts and Potions by Arsenius Jigger
Fantastic Beasts and Where to Find Them by Newt Scamander
The Dark Forces: A Guide to Self-Protection by Quentin Trimble
OTHER EQUIPMENT
1 wand
1 cauldron (pewter, standard size 2)
1 set glass or crystal phials
1 telescope
1 set brass scales
Students may also bring an owl OR a cat OR a toad.
PARENTS ARE REMINDED THAT FIRST YEARS ARE NOT ALLOWED THEIR OWN BROOMSTICKS
Format and Adjust the Harry Potter Acceptance Letter
Next you will want to format and adjust all of the spacing for the letter. Here are the changes that I made to make it look authentic:
Use font "Stamping Nico" (Learn how to download a font at the bottom of this Lumberjack Invitation post)
Use a cursive font for the Minerva McGnonagall signature. I used "Xingkai SC light"
Use 12pt font size for the text and 20pt font size for the headings (adjust to make look good if this isn't working)
Center the headings at the top of the page and the last line about first years and brooms.
On the school supply list tab the supplies under each heading.
Change the name at the beginning to the witch or wizard you are giving the letter to or to the magical children you are inviting to your party.
If you'd like the letter to be even ore authentic change the color to green so it prints with green ink
Change the dates if you are using as an invitation.
If you are using as an invitation you can also add an address at the bottom under the signature.
Order Parchment Paper
If you print your Harry Potter Hogwarts acceptance letter on the wrong type of paper (white paper) it is going to look crummy. When I printed mine I found a pack of 100 pieces of parchment paper to print the invitations, envelopes, and a bunch of the decor on. I looked at craft stores and they only had 16×16 pieces of parchment. That is annoying when you want to do a lot of printing. I looked at office stores and the cheapest parchment was a 50 pack for about $19. The options on amazon are MUCH cheaper. I recommend this 100 pack of parchment paper here on amazon.
Make a Cool Envelope
You can print some really cool Hogwarts envelopes at this website here. Just download the image and print one of the two envelopes. I printed the white envelope because I was printing on parchment paper like this.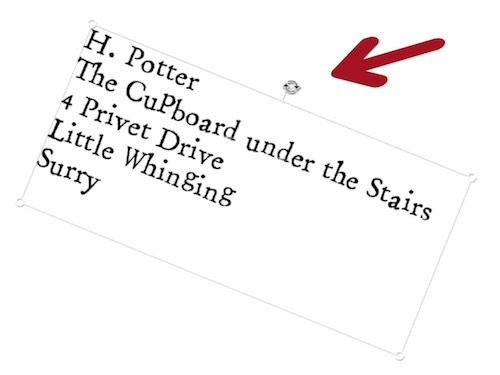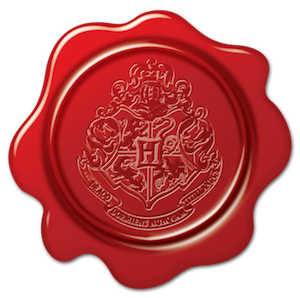 For the wax seal you can print this seal and glue it on, or even better you can print it on sticker paper or labels and stick it onto the back of the envelope.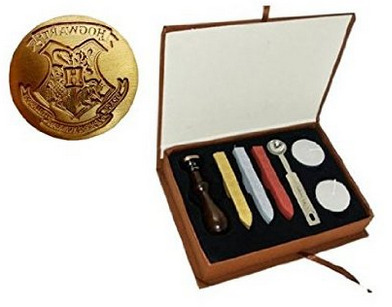 Or you could really have some fun with your Harry Potter Hogwarts acceptance letter and order this Hogwarts wax seal stamping set.
Print the Platform 9 3/4 ticket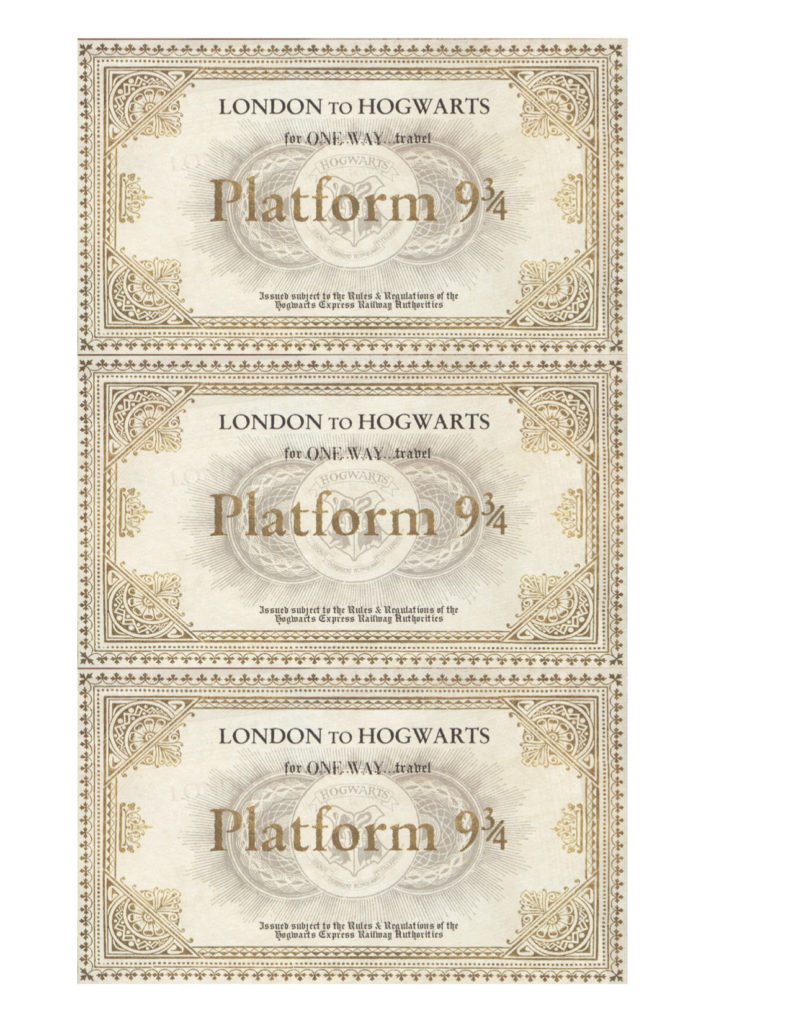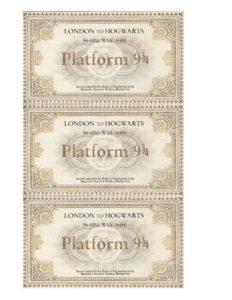 Print the Platform 9 3/4 ticket here. It looks really nice in full color with the gold. But if you have parchment paper and print black and white it looks almost as good and saves a lot of ink.
Make and attach the owl
For an extra finishing touch draw an owl onto a balloon with a sharpie and wrap the letter in twine and attach the two. You could buy owl balloons on amazon if you don't trust your drawing skills. The balloons sometimes pop while drawing the owl or rubbing against the twine so be prepared so you don't have a heart attack when it happens. I didn't draw these owls but my friend who co-hosted our Harry Potter party with me did and she said these owls were surprisingly easy to draw.
Other Posts You Might Like: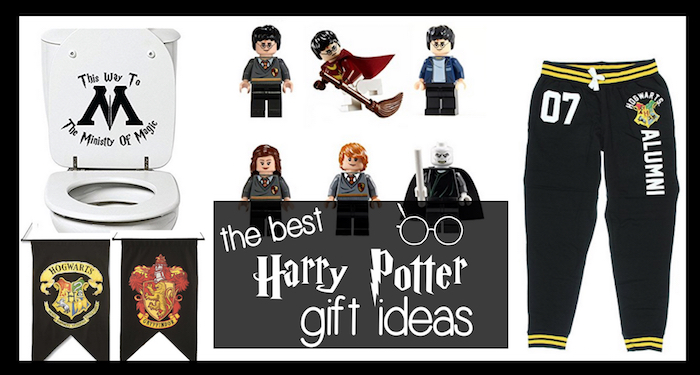 The Best Harry Potter Gift Ideas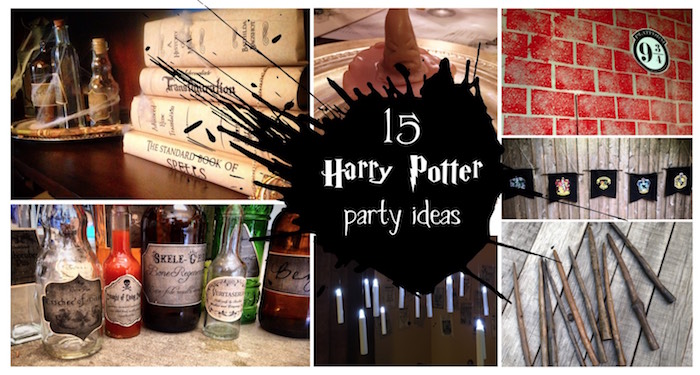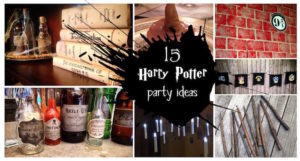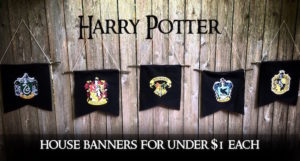 Harry Potter Hogwarts  House Banners DIY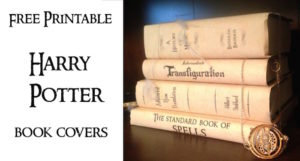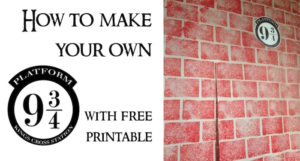 DIY Harry Potter Platform 9 3/4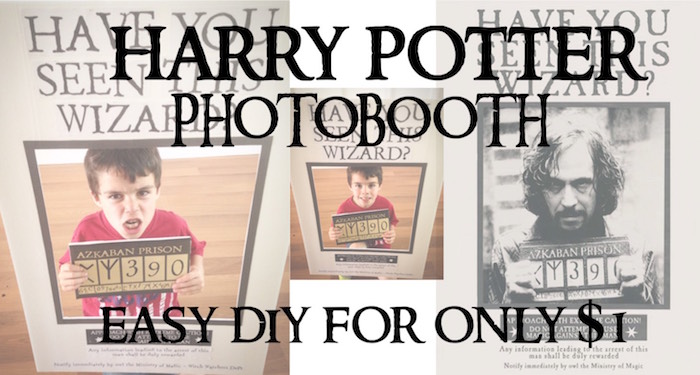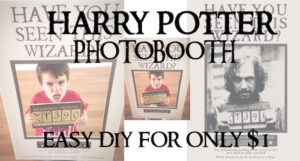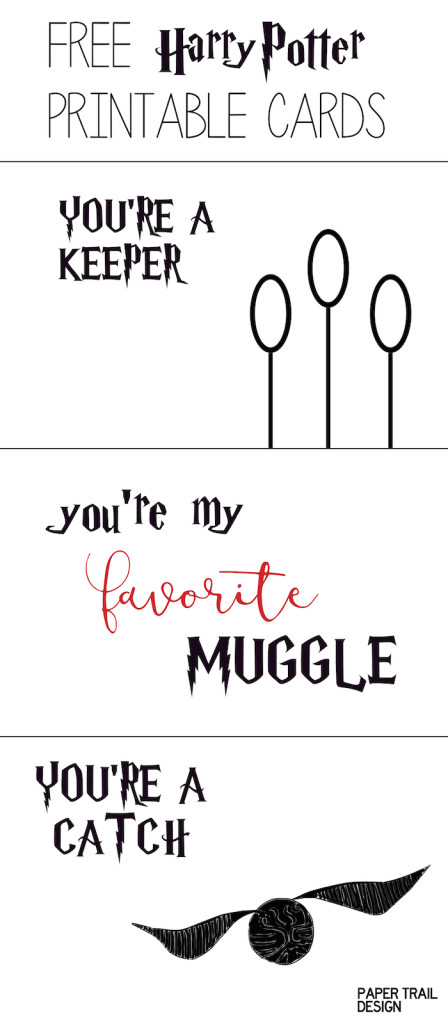 Printables from Paper Trail Design are for personal use only.
This page may contain affiliate links. When you click them you support Paper Trail Design. Thank you!
Pin this Post to Pinterest using the "Pin it" button below!
Visit Brittany @ Paper Trail Design's profile on Pinterest.
Thanks Tuyen Vo for the photo.