Use our free printable Yahtzee score card after you've run out of Yahtzee cards in the box.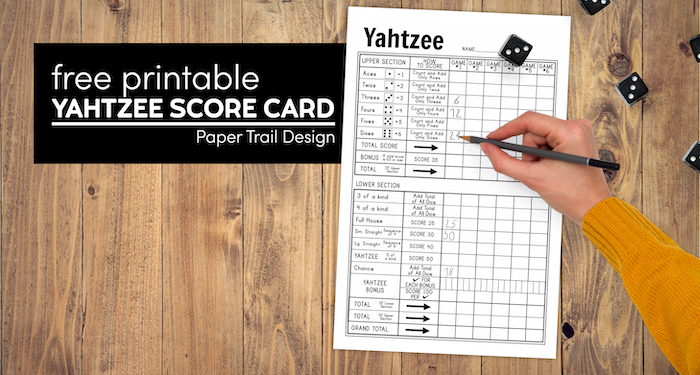 Free Printable Yahtzee Score Card
Yahtzee is one of the most classic family board games and it's a big bummer to run out of Yahtzee score sheets. But you can use this printable to refill the Yahtzee scorecards in your box. You could also purchase some dice and make your own game. Even better, purchase two or more sets of dice so you can play the game a little quicker. We have a single Yahtzee page to print or you can use the printable Yahtzee score sheets with 2 per page. Order extra dice from Amazon here. You could also make these into a reusable Yahtzee score sheet by laminating these cards and using a wet erase marker and a damp cloth to erase the scores when you are done.
Click the following links to print the Yahtzee score sheets

For best results, save the template to your computer before printing. I find it easiest to first click on the image to enlarge it, then drag and drop the image to my desktop, then print it from there.
Printables from Paper Trail Design are for personal use only.
Yahtzee Game Strategies
The Yahtzee box says it's a game of chance and skill and this is true. You can't make the dice do what you want but you can play with probability and the numbers to give yourself the best chance at getting a high score. Some of the strategies are as follows. Of course there are more strategies than this. These are just some of the most basic ones that seem to get your total score from the upper and lower section to be the highest.
Prioritize the upper section
You need to get three of each number to get the 35 point Yahtzee bonus in the upper section which can be a big deal. If you roll four sixes or four fives this will really help to make up for not rolling enough of another number.
Use your ones as an extra chance
Your ones or aces are a lot easier to make up for missed points than anywhere else. Never "go for" ones unless maybe you roll 5 of them in the beginning and think you may be able to roll a Yahtzee. Instead use your ones to make up for when you don't quite get what you are going for. Didn't get the large straight you were trying for? Just put a zero in your ones and try to make up for the missed points elsewhere.
Don't go for a full house
In my experience, 90% of the time you get a full house by accident and just take it when it comes. Of course if the game is almost over and you still don't have a full house then it's time to try for one.
Try for a large straight when you have a 2,3,4,5
Of course you can't control what the dice give you but you are much more likely to get a large straight if you have a 2,3,4,5 dice combo because you can get the large straight by rolling a 1 or a 6 doubling your chances of success. This is the best time to go for a large straight. Even better if you don't have a small straight yet and can fall back on that if you don't roll what you need.
More Printables from Paper Trail Design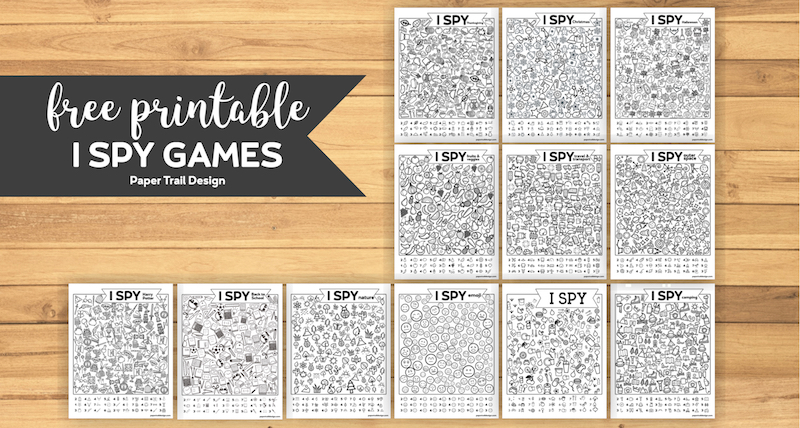 Over 50 I spy Printables – Print one of our many I spy game printables for a fun indoor activity.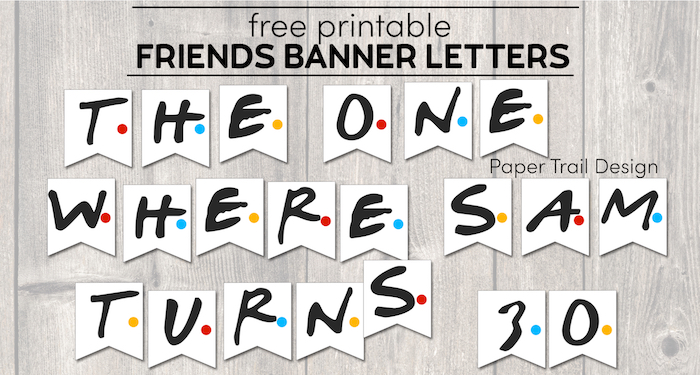 Friends Banner – Print a custom Friends banner for any occasion you need.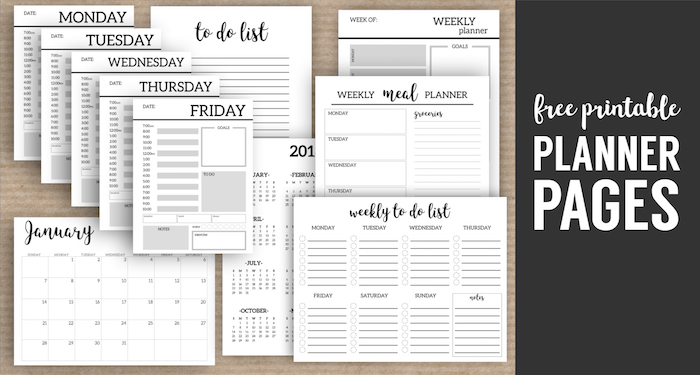 Complete Planner Printables – Print your own DIY planner or just use one page.
Visit Brittany @ Paper Trail Design's profile on Pinterest.
Paper
I often get asked what paper I recommend. For regular copy paper this 5 ream case of paper is one of the better deals. For cardstock I really like this card stock paper on amazon. It is much cheaper than I have found in stores and has a good thickness for most projects without being so thick that it jams the printer.

This page may contain affiliate links and when you click them you support Paper Trail Design. Thank you!

Finally, if you liked this post, help us out by pinning this post using the "Pin it" button below!