5 Best Wildflower Hikes in the Columbia River Gorge
Many hikers don't think to go much farther east than Multnomah Falls in the Columbia River Gorge but this is a HUGE mistake. Especially in the spring when wildflowers start popping out and blanketing the ground with a sea of balsam root, lupine, and an array of colorful flowers like you would never believe. Visiting one of these spots and taking a hike when the flowers are in peak season is absolutely breathtaking. We have compiled a list of what we decided are the five best wildflower hikes in the Columbia River Gorge. In order to see these amazing displays of wildflowers you are going to have to venture farther into the eastern Gorge but I promise the drive will be worth it.
On all of the hikes in the eastern Gorge you need to be mindful of ticks and rattlesnakes. Check yourself for ticks after completing a hike making sure to check crevices where ticks like best.
Hiking Etiquette
Do your best to stay on the trails and tread lightly when you step off trail to take a picture so as to preserve flowers and wildlife. This includes trails that cutoff switch backs. Going off trail encourages erosion and can damage the wildlife and flowers that make these areas beautiful. Pick up your trash and pick up trash that other hikers may have accidentally dropped. Practice "leave no trace" principles so that we can visit these beautiful places and find them just as impressive for decades to come. Don't pick the flowers. They turn ugly quickly after picking them. If you want a souvenir take a picture.
Tom McCall Point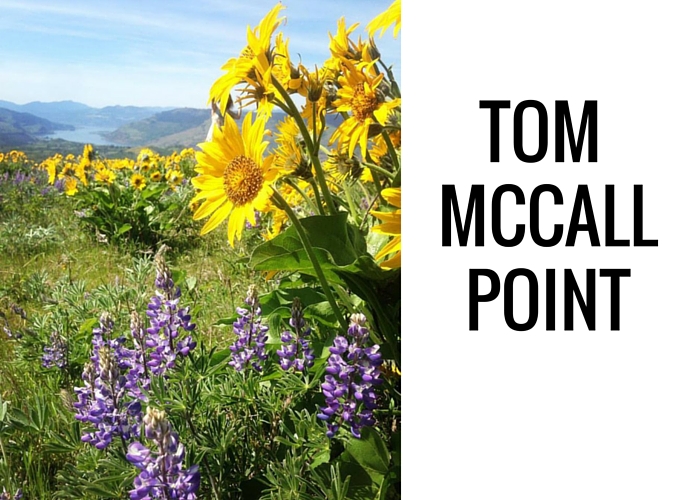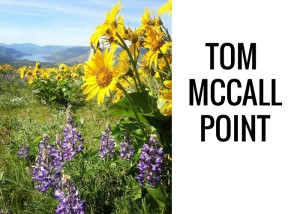 This hike is 3.6 miles round trip with 1070 feet of elevation gain. This isn't the easiest hike for kids to do, but it is still a great hike to take kids on if you are careful the 5-6 times that the hike breifly takes switchbacks close to the cliff. The majority of the hike climbs slowly uphill alternating through meadows of flowers and groves of scrub oak. Watch for rattlesnakes but don't let that stop you from going. Also keep your eyes and ears open as you hike for lizards scurrying in the trees and bushes. There is some poison oak that grows around the base of some of the oak trees so stay on the trail and try not to brush up against the plants. When you get to the top you'll find a meadow of balsam root and lupine flowers, a view of Mt Hood to the southwest, Mt Adams to the north, and a great view down to the Columbia River. This would be an amazing spot to lay down in the meadow and take a nap but be careful not to tromp on the flowers.
Timing
Usually April and sometimes May are the best time to see the lupine and balsam root.
Getting There
From Portland take I-84 east past Hood River to the Mosier exit. Take a right and hop on the Columbia River Highway for 6.5 miles until you get to the Rowena Crest viewpoint where you can park and start your hike. There are two trailheads here. The Tom McCall trailhead starts closer to the Rowena overlook and starts by hiking up through a meadow and then starting a gradual climb upward to the point. Find the Tom McCall Point trailhead on google maps here.
Rowena Crest/Rowena Plateau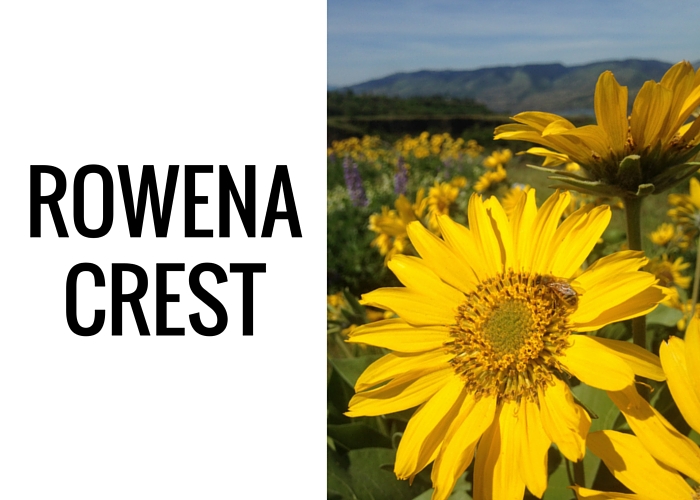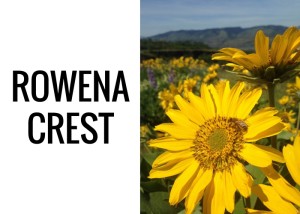 Rowena Crest, also known as Rowena Plateau is a great short easy stroll through a meadow of flowers. The biggest concentration of flowers is at the beginning of the hike but you will see large patches of flowers throughout. My favorite route for this hike is to follow the most predominate trail down. You will pass two ponds that are surrounded by thick trees and shrubbery so it is possible to pass by without seeing any water. Keep your eyes open for poison oak that is most prevalent around the pond but also at a few other places throughout the hike. Once while hiking here we almost stepped on a large rattle snake that must have been friendly because he didn't even rattle at us as we got close. Keep your eyes open but don't let it freak you out. You will be fine. Once you pass the ponds follow the trail down a little farther to the end for some more flowers along the cliffs and great views. You can follow the path back the way you came but I like to follow a less predominate path that goes veers off eastward just before you come back to the pond on the main trail. This trail wraps around the other side of the ponds on the way back. This follows along the cliffs and gives you some great views down to the river and to the town of Lyle across the river in Washington. Follow this trail around the back side of both ponds and it will eventually join back with the main trail in time to revisit the brilliant flowers at the beginning of the trail. If you follow this route you are looking at about a 2 mile round trip that is kid friendly if you can trust them near the cliffs. Keep a look out for vultures that like to soar up above and deer that sometimes wander around these meadows.
Timing
Usually April and sometimes May are the best time to see the lupine and balsam root. The great thing about Rowena Crest is that other flowers pop out as the spring progresses. I was once there in late May and a blanket of blue flowers called bachelor buttons covered the fields. A sign at the beginning of the hike shows at least 20 different flowers that can be found on this hike at different times throughout the spring.
Getting There
From Portland take I-84 east past Hood River to the Mosier exit. Take a right and hop on the Columbia River Highway for 6.5 miles until you get to the Rowena Crest viewpoint where you can park and start your hike. There are two trailheads here. Rowena crest starts through a fence at a signboard and you will start by hiking down. Find Rowena Crest on google maps here.
Dog Mountain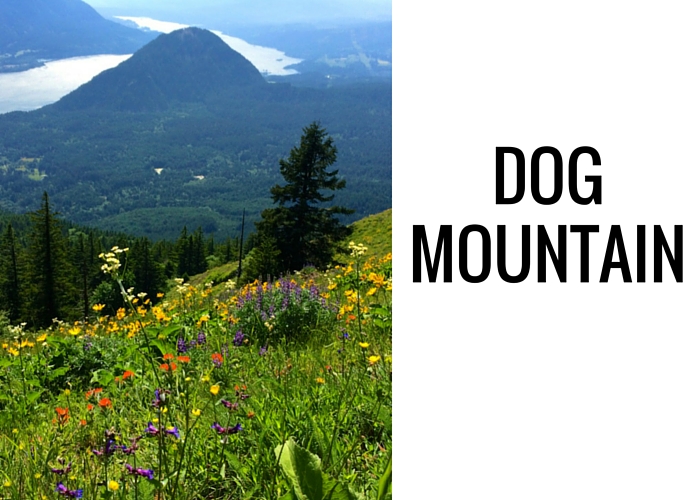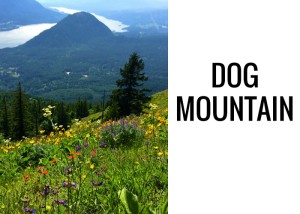 Dog Mountain is a steep grueling hike that opens up to a majestic meadow of yellow balsam root flowers at the top. The flowers are so thick at Dog Mountain that you can see the meadow turn yellow almost 3,000 feet down by the river if you know where to look. Even if you are in decent shape this hike might make you curse on the way up. There is one spot in particular that makes you want to crawl into the fetal position on the side of the trail it is so steep. But the reward waiting at the tops is a thick blanket balsam root flowers backed with a stunning view down the Gorge. Pictures just can't do Dog Mountain justice. You absolutely need to see this with your eyeballs. This is NOT in any way imaginable a kid friendly hike. Even if it is a warm day, once you get up to the meadow there is a chance that there will be massive wind gusts. Bring a wind breaker at least. On colder days bring layers, gloves, and a warm hat. It is hard to predict from the bottom how cold the weather will be up top so prepare for cold. I recommend following the main trail (going right when facing the mountain in a counter clockwise loop) and follow signs up to the summit. Once at the top, if you follow the Augspurger Trail you see more of the meadow and more views of Wind Mountain and the river below. Follow this loop back down to the car. This trail saves your knees because it isn't quite as steep as the way you came up. This hike is 7.8 miles long and has a 2,800 elevation gain. If that doesn't mean anything to you just know that it is steep and hard but worth it.
Timing
Usually late May to early June is when the flowers are at their peak. Dog Mountain Blooms later than most of the wildflower hikes because of the high elevation of the meadow.
Getting There
From Portland take I-84 east to the Cascade Locks exit. Turn right toward the Bridge of the Gods and pay the $2 toll fee to cross. Turn east on SR-14 (right) once you are in Washington and follow that 12.5 miles. The Dog Mountain trailhead will on the north side of the road. You will need a Northwest Forest Pass to park which costs $5 per day. Find the Dog Mountain trailhead on google maps here.
Visit Brittany @ Paper Trail Design's profile on Pinterest.
Hood River Mountain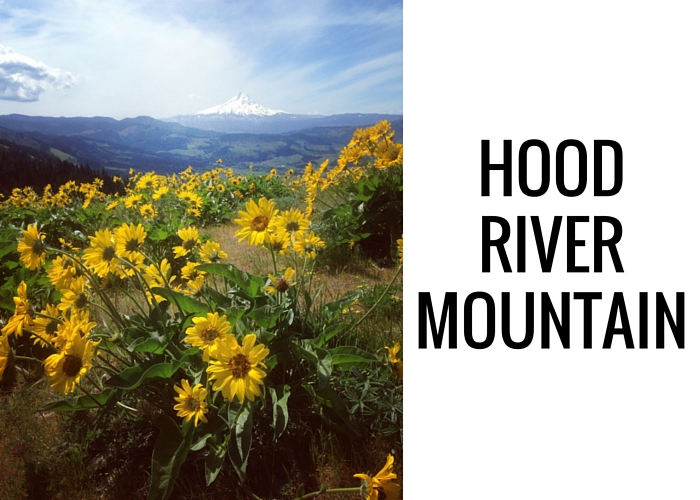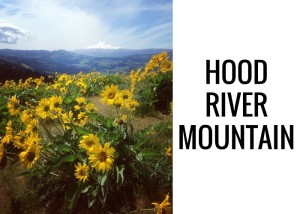 I'm not positive if this hike is technically in the Columbia River Scenic area. If it is not, however, it is just outside the area and has views down to the river so I am going to say close enough. This hike is on private land and was recently reopened after some logging on the property changed the ascent up to Hood River Mountain drastically. I am extremely grateful that whoever owns this property allows hiking on their land. Please be respectful of the local people in the area and please take care to clean up after yourself so that we don't ruin our relationship with these land owners. This is one of my favorite hikes and I died a little the day I thought it was going to be closed for ever. Thank heavens the trail has reopened! The new trail follows a new logging road up the hill. The nice thing about the logging is that it has opened up breathtaking views down to the river and to Mount Adams in Washington. When you come to the top of the hike you will turn a small corner past a small patch of scrub oak trees and enter the meadow with views down to the Hood River Valley. If you time it right you will be greeted by thick flowers. You can follow the trail through the meadow eventually leading to a tower. At this point you'll either want to turn back the way you came (my favorite option) or follow the trail left down to the road and then turn left and follow the road back to your car. This hike has some climbing in the beginning which can cause kids to complain a bit, but I would still call this a kid friendly hike, especially considering the lack of dangerous drop offs and wide trails making it easy to hold little hands. You can expect about a 3 mile round trip.
Timing
I haven't been able to time this hike to see both the wildflowers simultaneously with the blossoms on the orchards down in the Hood River Valley but if you can make it there during this small window of time you will see quite a scene. The blooming of each of these can vary by year. The orchards usually blossom early in April. The balsam root (yellow) flowers usually start to blossom around the same time and last through early May but the lupine (purple) flowers don't always blossom as early. Other flowers such as indian paintbrush are also found here and usually blossom in April.
Getting There
From Portland drive east on I-84 to exit 64 on the far end of Hood River signed for White Salmon and the Hood River Bridge. Turn right off the exit onto highway 35 and take the second left onto Eastside Road. After about 2 miles take another left onto Old Dalles Rd. After about a mile on pavement and another mile on gravel the you will see an area that has been recently logged on the right (south) side of the road with a gate about 100 feet back just before the main road takes a sharp right turn. You can park here and follow the logging road up, or continue around the corner and follow the road another mile up to where there are two more gates on either side of the road. You will follow the road the the right (west) if you park here. If you'd like to park and climb the logging road for Hood River Mountain find it in google maps here. If you'd like to park further up the road and take the back way to Hood River Mountain find that location in google maps here.
Stacker Butte/Dalles Ranch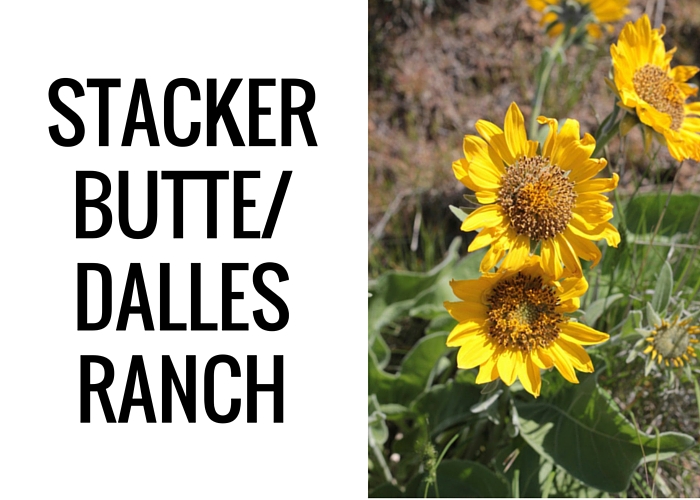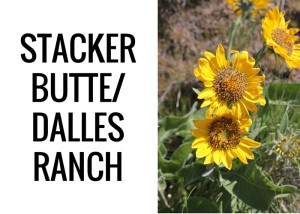 This hike is easy to follow. Park at the trailhead and follow the wide gravel path upward enjoying the flowers and views as you go. When you get to the top you'll see a shelter posted as hazardous. Hike just beyond this shelter staying out of the restricted area. After you pass the shelter, on a clear day, you will see views as far as Mt. Rainier to the north and as far south as the Three Sisters. You can follow the ridge across if you wish to extend the hike or you can use this as a turn around point. Pack layers on this hike if it is even remotely cold. This hike can be extremely windy and frigid at the top even if it is pleasant at the trailhead. On hot days this might not apply but to be safe I would pack at least a light jacket. Watch out for rattlesnakes. I have seen them just beyond the sign at the trailhead but they can be anywhere, especially if you leave the trail. This hike is about a 3-4 mile round trip.
Timing
This hike climbs a hill through the meadow. The flowers aren't likely to be in bloom at the bottom at the same time as the flowers at the top. The most impressive display of flowers is sometimes on the road about a mile before the trailhead. Stop and get out and take some pictures there if that is the case. The thick yellow balsam root flowers that make this hike popular at lower elevations usually start blooming in April and then the bloom moves up the hill for the next month or two.
Getting There
From Portland drive east on I-84 to exit 87 in The Dalles. After exiting take a left and pay $1 to cross the Dalles bridge. After 3.6 miles turn right onto highway 14 going east. Just shy of a mile later turn left onto Dalles Mountain Road.  Follow this road almost 3.5 miles and turn left after some ranch buildings. Follow this road another mile and a half to the trailhead. It cost $10 for a Discovery Pass to park here or $30 for a yearly pass that grants you access to other Washington State Discovery Pass sites. Use the QR code on the trail sign to pay with your phone. If you pay digitally you'll need to write down your pass code onto a paper and leave it on your dashboard. Find Stacker Butte trailhead on google maps here.
Carrying a Baby/Toddler?
I've been carrying my kids in carriers while hiking for 9 years now and have some serious opinions on what works best. Here are my recommendations.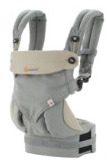 Ergo carriers are by far the most popular for babies up to 33 lbs, not only for hiking but for everyday use. I've heard rave reviews of these being much more comfortable than any other carrier. They also hold their value well so you can sell it on craigslist when you are done with it and get a decent amount back.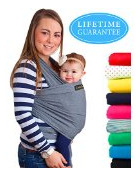 Carrier wraps are nice if you don't mind doing some oragami every time you want to use it. There are a bunch of different ways to wrap them for different ways to carry your baby.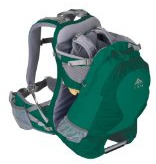 For toddlers you sometimes want something a little sturdier. Kelty is by far the most popular brand for child carriers for hiking. I like this Kelty Junction 2.0 because the child sits a little lower on your back. A lot of carriers have the child sitting up higher and it makes it harder to duck under branches as you hike. This also brings your center of gravity lower giving you better balance.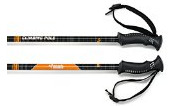 If you are carrying a larger toddler, I highly recommend you use trekking poles. This isn't completely necessary but it will help save your knees and joints by taking some of the weight off. Trekking poles will also help you keep your balance while on the trail. I was able to hike with a knee problem thanks to my trekking poles.
Liked our article The Five Best Wildflower Hikes in the Columbia River Gorge but are looking for a hike near Portland? Check out our popular post 5 Best Portland Area Hikes with Kids. These are great for adults too!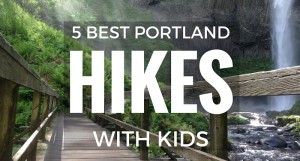 Hiking with Kids?
Check out this post Ten Tips for Hiking with Kids for tips to make it a little more bearable to bring your kids along>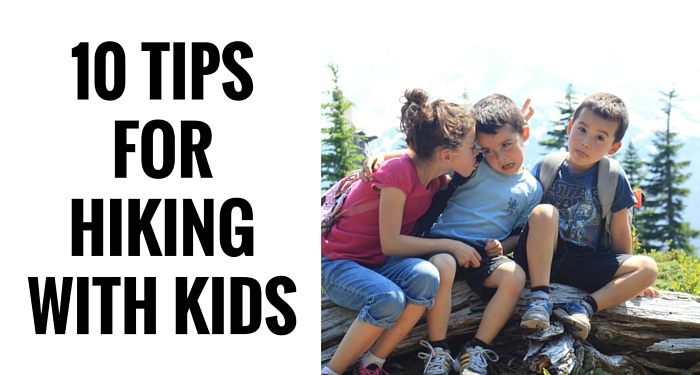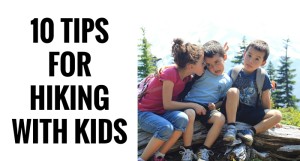 And the post with printable Hiking Bingo to keep kids (or adults who are young at heart) distracted while hiking the five best wildflower hikes in the Columbia River Gorge.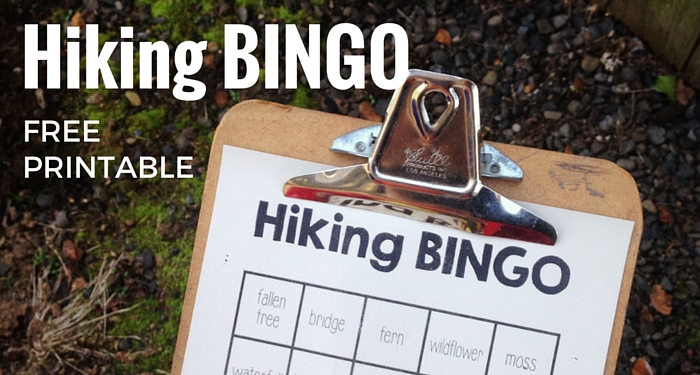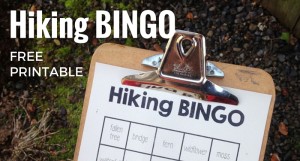 This page may contain affiliate links. When you click them you support Paper Trail Design. Thank you!
Pin this Post to Pinterest using the "Pin it" button below!