5 Best Portland Area Hikes with Kids
You may have noticed that this post doesn't really fit in with the whole "free printable" theme of this blog. But I have a hiking obsession. Hiking is my therapy. I also have kids. So I happen to be a self proclaimed expert on the best hikes with kids. I had a hard time narrowing down my list to just five hikes. The Pacific Northwest has so many amazing hikes to offer. These five are a great jumping point to get kids out there on the trail.
1. Wahclella Falls (UPDATE: Trail Closed!)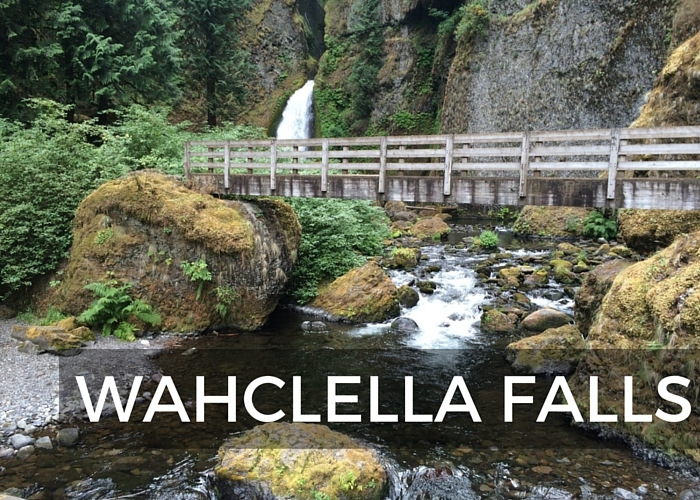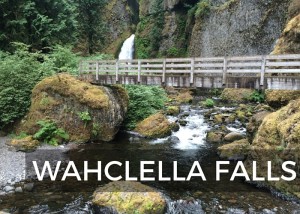 UPDATE: Due to the 2017 Eagle Creek fire this hike will be closed for a LONG time. I will update if this hike opens back up but it probably won't be for years. That is truly tragic because this hike was a gem.
I get asked all the time for hiking suggestions. Ninety percent of the time I will say Wahclella Falls. This hike is just too perfect. It is less than one mile each direction (just under two miles total). The hike is gorgeous. There is a perfect spot just beyond the bridge at the falls to stop, eat lunch, and let the kids throw rocks into the water. Kids LOVE to do this. When my five year old nephew came to visit he spent most of the week telling us that he DID NOT under any circumstances want to hike. We took him to Wahclella Falls and the entire time he was singing praises of how cool this hike is.
Things to consider:
There are many portions of this hike with large drop offs on the side of the trail. If you don't think you can trust your kids to stay on the trail it might be best to pick a different hike from this list.
It cost $5 to park at Wahclella Falls. There is a pay station in the parking lot. On weekends and holidays the parking lot fills up fast. You might have to park at the fish hatchery across the freeway. Do not try inventing a parking space. You will get a ticket. Don't ask me how I know.
Getting there:
Take I-84 to Exit 40/Bonneville Dam Exit. Turn south and drive to the end of the road to the parking lot.
2. Bridal Veil Falls (Trail Open)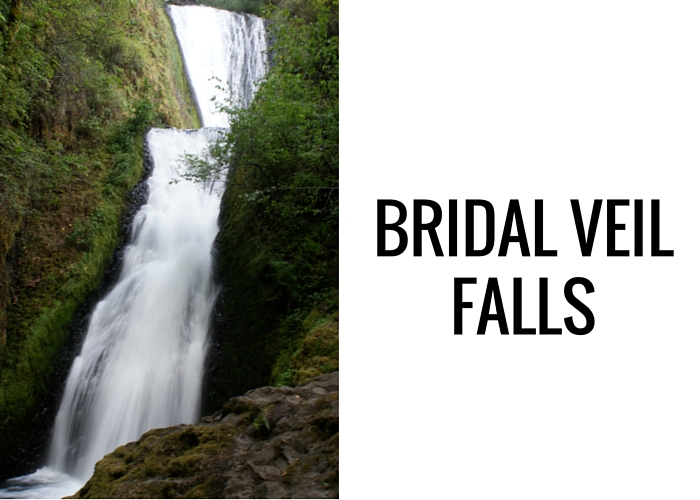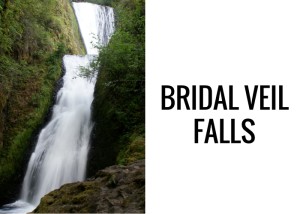 UPDATE: This is one of the few hikes that is back open after the Eagle Creek fire (2017).
Bridal Veil Falls isn't really my favorite hike. It's just too short and easy. It's only .3 miles each direction making a .6 mile round trip. But I am including it in this list because that is the very thing that makes it so kid friendly. I'm well aware that some people aren't as crazy about hiking as I am. This hike gets you to a nice waterfall in a short time. There is also a .5 mile loop hike up above that includes some picnic tables and a great veiw of the gorge although you will be overlooking the freeway and have some freeway noise so don't expect it to be serene and peaceful. This is a great spot for a picnic after your hike.
Getting there:
From Portland take I-84 to the Bridal Veil Exit and drive for about 1/4 mile to the Columbia River Highway. Turn right on the highway and the Bridal Veil exit will be on your right in another 1/3 mile. From Hood River take Exit 35 and follow the Columbia River highway about 7 miles to the parking lot.
3. Falls Creek Falls (Open)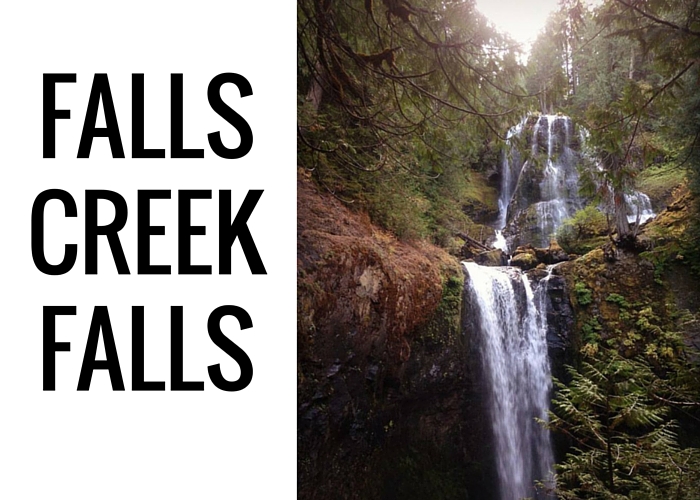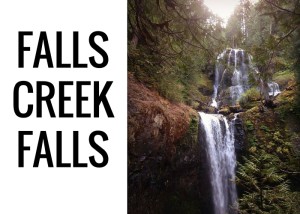 I do a lot of hiking and I see a lot of nature. I knew this waterfall was pretty cool because my sister had talked it up. But when I rounded the corner and saw Falls Creek Falls for the first time it literally took my breath away. I was amazed by the beauty and magnitude of this falls. This is one of those falls that you just can't do justice on film. You've got to go see it up close. It's an easy hike. The mileage is 3.4 miles total round trip but I had to triple check that from three sources because I could swear it was shorter, a testament that the hike is easy. The only drawback to this hike is that it is a bit of a drive. But I promise the hike is worth the drive.
Things to consider:
Falls Creek Falls is located near the Mt. St. Helens wilderness. During winter months the roads might not be accessible due to snow cover.
Getting there:
Take I-84 to the Cascade Locks Exit and pay $1 to cross the toll bridge (Bridge of the Gods). Go East on highway 14 for about 6 miles and turn North on highway 30 through Carson for 14.5 miles.Turn right on Wind River Road for .8 miles and take another right onto gravel Road 3062 for 2 miles. Fork right onto Road 057 for another .5 miles to the parking lot.
4. Latorelle Falls (Open)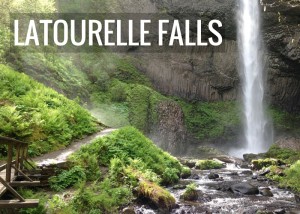 UPDATE: This is one of the few hikes that is back open after the Eagle Creek fire (2017).
Latourelle Falls is a short 2.3 mile loop. One of the best things about Latourelle Falls is that it is the closest Gorge hike to Portland so if you are short on time, this is the hike for you. The hike climbs a lot in the first 1/4 mile but it's easier to get kids to do some climbing in the beginning and the whole climb you get gorgeous views of the falls. Then follow the trail along the river to the upper falls. Cross the river here. On the way back down there is a junction. It looks like you should go right but the answer is left. Trust me. The trail eventually comes down to the road a few hundred feet from the parking lot. Don't be tempted to take the shortcut and follow the highway back you your car. If you cross the street and follow the trail down under the bridge it brings you to the base of Latourelle Falls for the most stunning views of the hike.
Getting there:
From Portland take I-84 to the Bridal Veil Exit and drive for about 1/4 mile to the Columbia River Highway. Turn right on the highway and drive just shy of 3 miles to the Latourelle Falls Parking area on your left. From Hood River take Exit 35 and follow the Columbia River highway about 10 miles to the parking lot.
5. Tamanawas Falls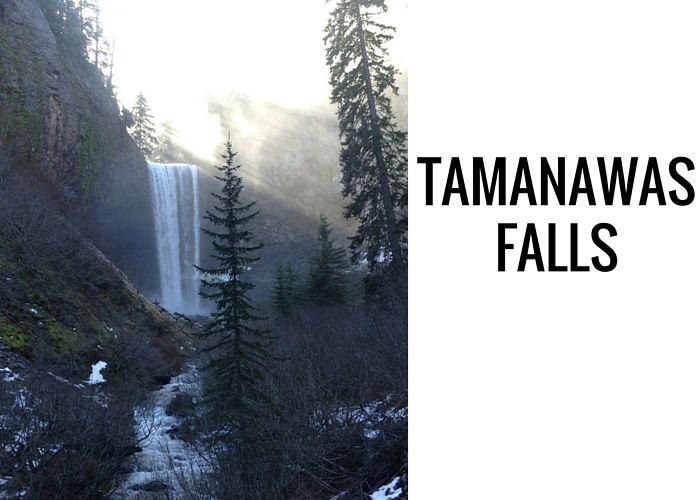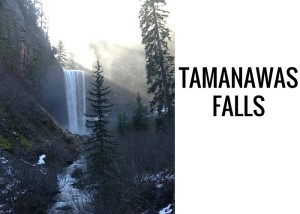 Mirror Lake is arguably the most popular hike on Mt. Hood but often overlooked is Tamanawas Falls. This hike is a little longer but has slightly less elevation gain. Just a little less climbing can make or break kids on a hike. Tamanawas Falls is 3.8 miles round trip and takes you to a dramatic amphitheater where Tamanawas falls empties. It's definitely worth the drive.
Things to consider:
Tamanawas (say that 5 time fast) Falls is located on Mt. Hood. In the winter months and often into the spring snow will cover the trail. I would not advise taking kids on this hike if there is snow on the trail.
You will need a Northwest Forest Pass to Park at the Tamanawas Trailhead. If my memory serves me correctly there is no pay box at the trailhead to pay for this pass so stop by a ranger station such as the Zig Zag Ranger Station on highway 26.
Getting there:
Take Highway 35 either from Hood River or Mt Hood to the Sherwoon Trailhead just north of the Sherwood Campground near milepost 72.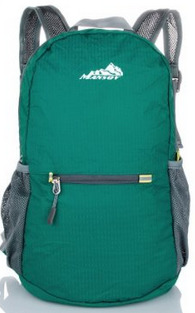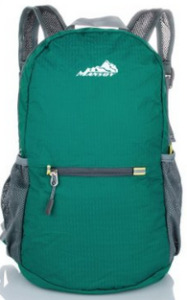 This lightweight backpack on amazon would make a great lightweight option for kids to carry on hikes. Kids like to carry their own backpack of snacks but you want to keep it lightweight or it will slow them down and turn them into whiners.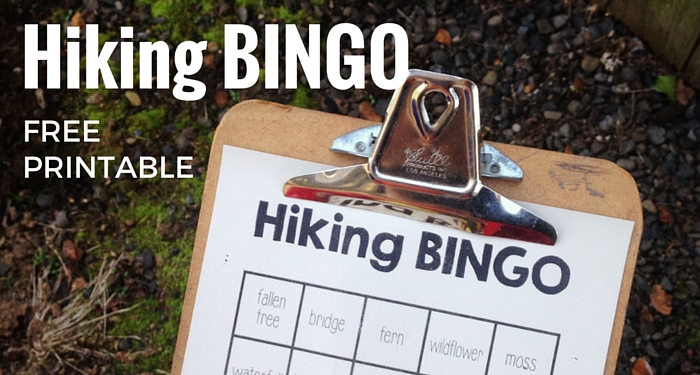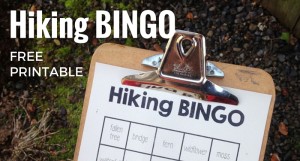 Looking for a way to keep the kids happy and busy while hiking? Try out hiking BINGO here. Print it for free and come back to let us know how it worked out for you!
Visit Brittany @ Paper Trail Design's profile on Pinterest.
This page may contain affiliate links. When you click them you support Paper Trail Design. Thank you!
Pin this Post to Pinterest using the "Pin it" button below!