What I Learned when my Daughter Got Head Lice
A few days ago my daughter came home in tears. She said she found a bug in her hair, her head was all itchy and she thought she had head lice. I told her to calm down, gave her a hug, keeping my head a good distance away, and then started to dig through her hair. When you've never seen what head lice look like first hand it can be hard to identify. She had been itching and had all kinds of dry skin hanging out it there. I knew that lice nits stick to your hair and are hard to get off. That's why you need a really good lice comb in order to get them out. The best way to know if what you are seeing is in fact lice is to blow on it. Does it move around? That's probably just dry skin. But if you find some small oval eggs stuck to the hair that you have to use your fingernail to pull off, you most likely have a case of head lice. I had my daughter wash and blow dry her hair so I could see better what I was looking at. When I checked, the worst was realized. I found nits.
Does your head itch yet? Mine too. Lets move on.
Help From an Amazing Friend
What happened next still makes me want to shout praises to Heaven. I knew that my friend Angela who owns the blog FrugalLivingNW.com had a nightmarish experience with head lice in her family. She and her seven children got head lice just two days before she was leaving to visit Africa. That's eight out of the nine heads that reside in her house! They hired someone and spent hours cleaning their heads to get rid of the lice. I knew that they had gotten rid of it in time to have a lovely lice free trip just two days later. If anyone knew about getting rid of lice fast, it had to be Angela. So I sent her a message asking for some advice.
What happened next was incredible. Angela told me and my daughter to come on over to her house where she would help us get rid of the head lice. Wait. What? You want to invite one, maybe two (I hadn't been checked for lice yet) parasite stricken people into your home at a moments notice? Most people wouldn't touch you with a ten foot pole if you simply said the words head lice. I am a stubborn person who doesn't like to accept help but I was desperate. I had no idea what I was up against and I had heard horror stories that I wasn't interested in repeating. So I took her up on the offer.
A half hour later we were on Angela's doorstep. She invited us in to her busy home. Kids were doing homework, she was making dinner, and kids were preparing to head off to swim team. She plopped my daughter down on a stool and dug through her hair to confirm that what I had found were nits. They were. She proceeded to show me exactly what to do to get rid of the lice.
Have I mentioned that she is amazing?
What We Did to Get Rid of Lice
1. Slather Her Head with Oil
The first thing Angela did was spread towels on the floor and drape them around my daughter's shoulders because things were about to get messy. She then dumped oil all over my daughter's head. I found a squirt bottle from the dollar store to work really well. I've heard people say they used olive oil, coconut oil, and even mayonnaise for this. We used vegetable oil because it is cheap and we like smelling like french fries (kidding). The purpose of the oil is two fold. One, the bugs hate it because it suffocates them. Two, it greases up the hair making the experience of running the lice comb through it slightly less painful. If there are a lot of bugs in your hair you might see them coming up out of the hair trying to escape the oil. Try not to gag.
2. Got a Good Lice Comb
I've heard people say that the nit comb didn't work for them. This nit comb did a great job and got all of the nits out of my daughter's hair. I'm not sure if there are good and bad combs but I have a feeling that there are. I honestly don't know how you could survive a lice outbreak without one. But you have to know that it isn't going to get all the nits after one pass through the hair.You have to brush in different directions until you don't see any more come out.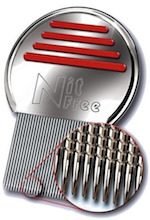 This is the Nit comb on amazon we used and it worked great. Even though Angela let me use her comb, I bought one to have in my house. If I find lice, I don't want to wait for a comb. I want to get straight to work.
3. Combed Her Hair Until We Stopped Finding Nits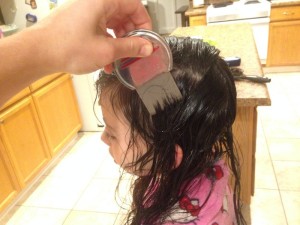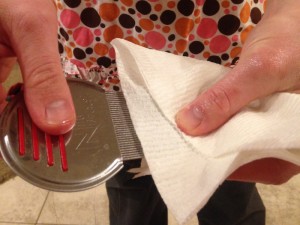 Pick a section of the hair and dig in. Find a way to methodically go through the entire scalp. You can't just pass through each spot once and expect to get them all. Angela taught us that you comb through each spot in four directions. Between each pass through take the comb and wipe both sides by grabbing it between a paper towel and wiping all of the oil, nits, & bugs off. Examine the paper towel to see how much you got out. It helps to get a fresh paper towel periodically. Make sure to squish any moving bugs (ew). We spent two hours getting every nit and bug we could find. They don't really like to move around so you will find patches of hair with much more bugs and nits than others. When you find any nits or bugs, continue to comb that spot in all directions until your comb has come out clean repeatedly. Really dig in close to the scalp to make sure you get them all.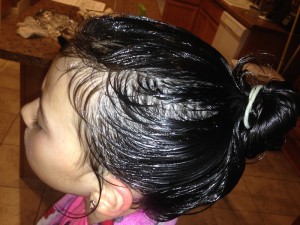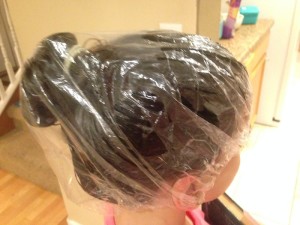 4. Sleep With Your Head Covered in Oil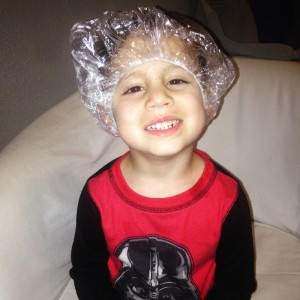 After checking my head for lice and finding none (Hallelujah) Angela sent us home with shower caps. Yes she even gave us a supply of shower caps. She's that amazing. Our instructions were to cover our heads with oil to suffocate the lice. The shower caps are simply to keep the oil from getting everywhere. You can find a 30-pack of shower caps on amazon here.  If you cover your pillow with one or two towels this will also help keep the oil that seeps out of your cap off of your pillow. Our entire family did this the first night just to be uber safe. We didn't find any nits on anyone else in our family but we wanted to eradicate any bugs and be confident we didn't have it. You could do this while awake too, but it's a pain, especially for kids and much easier just to sleep this way. Just make sure the oil stays on for at least 8 hours. That is how long it takes to make sure you suffocate all of the bugs.
5. Wash the Oil Out with Liquid Dish Soap and Shampoo
This is another tip that Angela taught us. When you have about a cup of oil in your hair, regular shampoo is just not going to cut it. Dish soap was designed to get out massive amounts of grease so start by washing it out with dish soap. It's easier to put your head over the sink or tub in a way that keeps the oil from dripping down your body causing for more clean up. After getting the worst of the oil out we then moved onto shampoo and conditioner. Dish soap wasn't really designed to make hair smooth and supple so some good shampoo and conditioner helps.

6. Repeat Every Night for a Week
Luckily my daughter was the only one in our family that had lice. After sleeping in oil the rest of us called it good. My daughter will repeat the oiling, combing, and sleeping in oil for a week. On the second night of doing this we only found one nit. The likelyhood of us catching lice from her at this point almost zero.
7. What About Washing All of the Clothes?
We learned that lice can't live more than 24 hours off of your head. Common sense says to wash pillows, and any items that come in close contact to your head such as a special blanket or stuffed animal and maybe sheets. A hot wash and the dryer will get them. There is no need for special detergent. Lice don't jump, however, so washing a toy or stuffed animal that was never played with is probably unnecessary. We have kept our main focus on getting rid of the nits each night and sleeping in oil that will kill any live lice that may have hatched from a missed nit. They are, after all, called head lice and not stuffed animal lice or blanket lice.
8. Relax. Its Going to Be Okay
I used to be so paranoid about someone in our family getting lice. Now that we've had it I realize that if you know what to do to get rid of it, it's not that big of an ordeal. Just get the nits out and sleep in oil. That's really all we've done. It's no vacation but we can deal with it. The lice aren't causing any life threatening diseases, they are just gross. We'll be okay.
Disclaimer: I don't claim to be an expert. This all comes from my experience and what worked for us. Situations and results may be different for others.
Visit Brittany @ Paper Trail Design's profile on Pinterest.